ALABAMA GULF COAST MUSIC HALL (THE BIG RED BARN)
Bus. Address: 354 Cypress Lake Drive – Gulf Shores, Alabama – 36542 Ph. 251-978-2462
www.alabamagulfcoastmusichall.com * BUS. E-MAIL: staffcollc@yahoo.com
LIVE SHOWS – DINNER SHOWS – EVENT BOOKINGS – BANQUET BOOKINGS – WEDDINGS – CORPORATE MEETINGS
We are in full swing each Thurs., Fri., & Sat. with "The Favorites Band" with special guests and all your favorite songs for dancing and listening…plus, the Best Southern BBQ in the South … And all your favorite beverages – Call 251-978-2462 for discount tickets – reservations and info!
Plenty of space for dancing, your favorite music, and tasty food…It's better than medicine for the body & soul …
Fun, Music, Dancing, and Southern Style BBQ is happening this week at ALABAMA GULF COAST MUSIC HALL (THE BIG RED BARN) in Foley, Alabama..
Another great week of great things to do and enjoy at ALALBAMA GULF COAST MUSIC HALL (THE BIG RED BARN) on the Foley Beach Express in Foley, Alabama…Here is this weeks schedule…
***********************************************************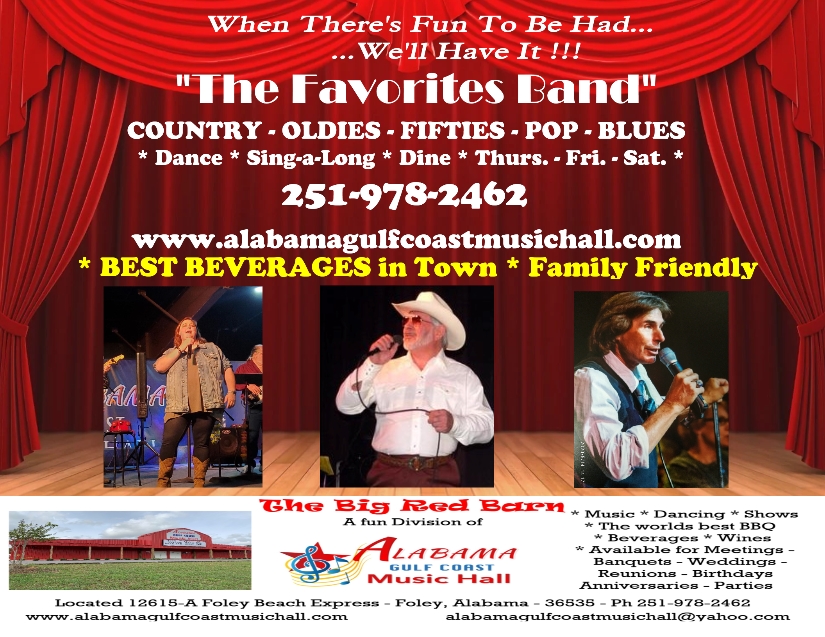 ADVANCE TICKETS AVAILABLE FOR ALL SHOWS – 251-978-2462
Call for group reservations!
LIKE US ON FACEBOOK! alabamagulfcoastmusichall.com
*************************************************************
www.alabamagulfcoastmusichall.com
Call 251-978-2462 for tickets…$10
email – alabamagulfcoastmusichall@yahoo.com
*************************************************************